Registered User
Join Date: Jul 2010
Posts: 1
Feedback Score: 0 reviews
Flange Rotted Off Cat. Converter--Easy Fixes?
---
Hi all,
I used to be a member here, and I'm not sure why I couldn't log in, so I re-registered. It's a great forum, and it's been a big help, in the past.
My g.f.'s 1997 Outback Legacy wagon (2.5, 200,000 miles, original owner) has developed a loud exhaust. When I got under it, I figured out that the rear flange on the rear cat. converter is simply G-O-N-E, and yet both cats are otherwise fine, as is the "mid-pipe" and the entire rest of the exhaust, actually.
As you can see in the attached pic, the "spring bolts" are still there (though rusty--I'll get new ones) and the pipes are solid.
(Oh--please ignore the hose clamp. I put that on years ago, to hold on the rattling heat shield, on the rear cat. The cat itself is sound, but a few of the heat shields have become noisy, as the bolt holes rotted out. I welded some of them on, and clamped this one.)
I weld, and do much of my own work, but due to an injured arm, I was considering paying to have it fixed. However, a few phone calls changed my mind on that score:
First, I got prices for a new (rear) cat., and they ranged from $200.-360. (parts only). The quotes I got from two Midas shops, for a rear cat. replacement, ranged from $700.-800. (parts and labor).
Plan B consisted of me asking a Midas shop if they would weld a flange on the pipe. They said they "fix these cars all the time" but how they do it is to weld some woven "flex pipe" between the rear cat. and mid-pipe. To do this, however,
they cut the front flange off of the mid-pipe,
thereby getting the few inches of room they need to put in the flex pipe.
I didn't like this for three reasons, first being the price.
They charge $89. for 4" of flex pipe.
They charge $100. labor. Total: $189. (plus tax?).
The second reason I didn't like it is it seems that the entire weight of the mid-pipe would then be hanging off of the (rubber doughnut?) hanger of the mid-pipe, which is located several FEET from the flange in question. IOW, as originally configured, Subaru's "spring-bolt-slip-flange" arrangement was presumably taking some of the weight of the mid-pipe. With only a flex pipe between the two, there would be no support for the front of the mid-pipe.
The third reason I don't like the flex-pipe fix is because I believe the tube exiting the rear of the (rear) cat. is a smaller diameter than the O.D. of the mid-pipe (after the front flange of the mid-pipe is cut off). Therefore, I would think there would be leakage, if the flex-pipe were clamped. The shop said they'd weld the flex-pipe on (which would prevent leaks, provided they welded 360 degrees around the pipe), but I guess I still object to the $189. price, when it's something so simple. (I wasn't in love with the idea of cutting off a perfectly good mid-pipe flange, either....)
ANYWAY, I Googled around and found the following two threads, one from this very site. (It's not necessary to read them, but I put links here for reference, if anyone's interested):
"split flange"
exhaust flanges
"fix-a-flange"
Catalytic Converter Flange Broken - NASIOC
I believe the"fix-a-flange" thread may not be exactly relevant, as I suspect the Impreza's have a different diameter exhaust tube?
Here is a link to a "Split-Flange" kit:
http://shop.advanceautoparts.com/webapp/wcs/stores/servlet/product__26010007-P_N4066H_A|GRP2023A____


My questions are these:
1. Do you guys recommend a "split-flange" type solution?

2. Can anyone supply the exact O.D. of the rear cat's. pipe,
so I can find the proper "fix-a-flange"? (I can't measure accurately it as there is too little clearance between that pipe and the front of the mid-pipe, and I don't have a caliper, though I just realized I guess I could make a caliper out of something....).

3. Do these "split-flanges" leak?
If so, how badly?
4.
From what I gather, there were once TWO gaskets involved in Subaru's "spring-bolt/slip-joint" lash-up. I'm unclear where these two gaskets would go, once I install the new spring-bolt kit and the "fix-a-flange." Any guidance on:
a) where to get the correct gaskets?
b) where these gaskets go, exactly?
(Since they're both gone or fused into the mid-pipe flange, I can't see where they would normally sit).
...would be greatly appreciated!
5. Can anyone recommend a source for these "split-flanges"?
6.
Has anyone successfully used one of these "split flanges" for this type of repair?
It seems like I'll have to grind off the remaining "ring" of the old flange, so I can get enough room to fit the split-flange onto the rear of the cat.
7. Is there a BETTER SOLUTION that the bolt-on "split-flange"?
My welder is a PITA to drag out and set up (no garage) so, with my injured arm, the bolt-on option was more appealing. The other problem with welding, however, was
I'm unclear as to how one would weld on the TOP SIDE of the rear cat. pipe,
as there isn't much room between that pipe and the heat shield under the car.
8. Has anyone seen/used Midas's "flex pipe" solution?
It sounds rather shade-tree AND expensive, IMHO.
Sorry this is so long-winded.
Thanks in advance.
The Last Outback
Registered User
Join Date: Nov 2007
Location: central NY USA
Car: 2003 LLBean H6 Outback
Posts: 5,280
Feedback Score: 0 reviews
There is another type of split-flange that uses 2 curved pieces of metal with holes in the end that you just run the spring bolts through.
Can't find a pic...
Either though should work with no leaks. The type I'm referring to (which I've used) might fit better around the converter.
Dave
Registered User
Join Date: Jun 2012
Posts: 1
Feedback Score: 0 reviews
My Solution to the Problem
---
I had the same problem with my 1997 Impreza Outback Sport with 198,954 miles.
Driving down the highway, suddenly hear the exhaust get LOUD... I nurse it home trying not to draw too much attention.
I look underneath and see the cat has separated from the rear exhaust.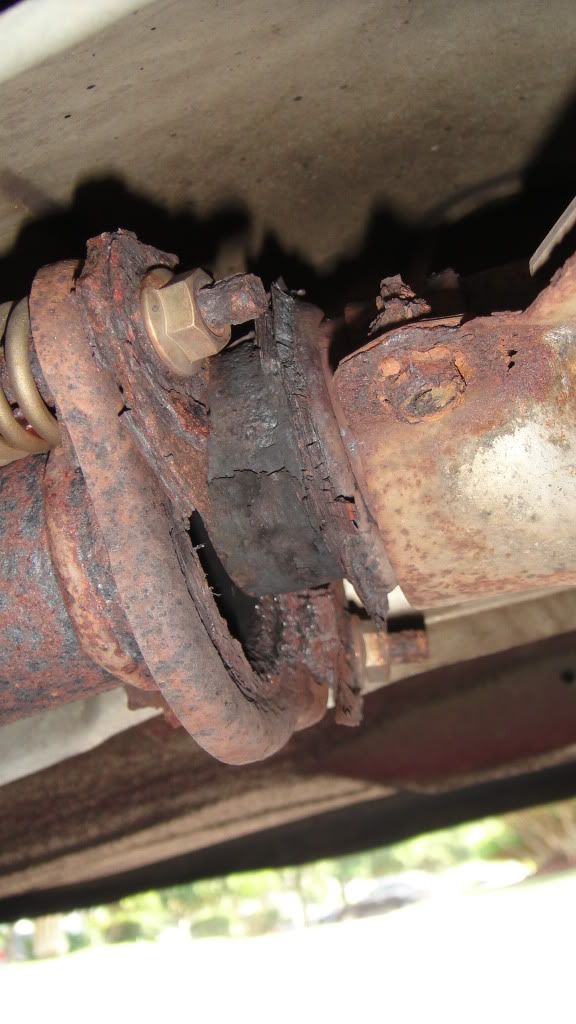 The rest of the original exhaust system is rusty but very solid for 198,000!! Go Subaru!!
Right away I know if it take it to the Dealership or a Repair Shop they'll tell me "Sir, You need an complete NEW Exhaust system and Cat" That's going to cost $800-$1000 easy... Yea...Not me buddy.
So I'll just do what I always do.. Pull a Top Gear/Ghetto style repair...
A quick trip to the hardware store and $10.08 later along with about 30 minutes of bolt tightening and I have the problem solved.
Total Cost: $10.08!!!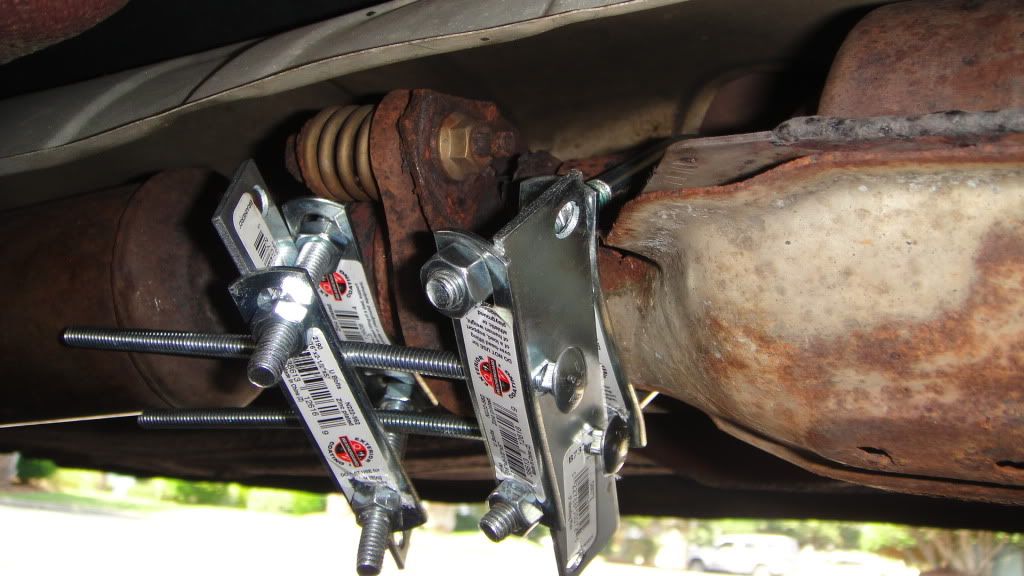 Now the exhaust is VERY QUIET and good for another 50,000-100,000 miles!!
Setup is very solid, it's two clamps that serve as handles and two steel plates with 6 inch long bolts holding them together nice and snug.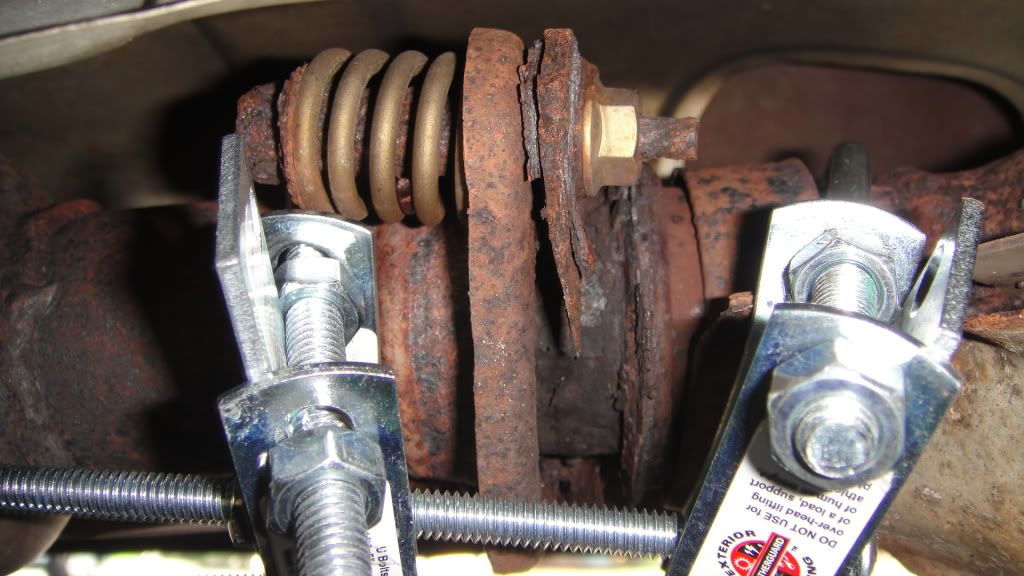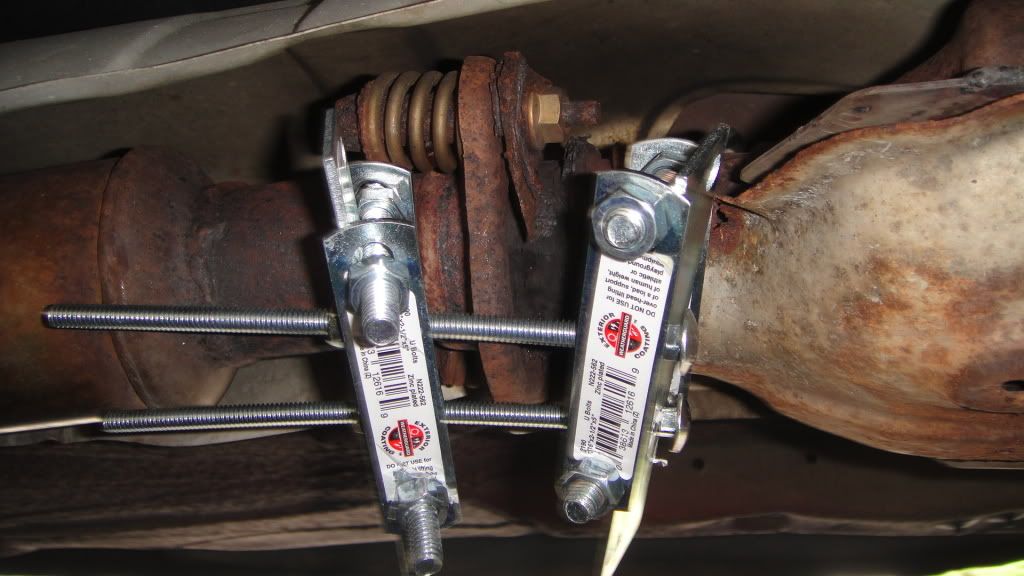 Good Luck!!
Registered User
Join Date: May 2009
Location: east coast
Car: OBW H6 VDC, Tribeca, XT6
Posts: 10,021
Feedback Score: 1 reviews
your post is really long so i'm not reading it - but this is really common.

i would weld it or have a shop weld it. but i've seen flanges and such too. you could also get some pipe and have the ends expanded to slide over your existing pipe and clamp them on. that's probably what i would do.

someone installed some kind of bolt on repair to mine (i let them borrow my car) last year and it only held a few months, rusted and fell apart again. i welded it.

have a shop properly clean and weld it back together, no big deal. there are multiple ways to weld it back together. if the metal is otherwise good you can clean it all up and simply weld the converter back to the flange. weld another flange in place, weld pipe in the gap...etc - i've done the same repair multiple times.

a shop set up to do muffler stuff can do this in way under an hour and almost zero parts costs. $50 - $100. guy i know in Pittsburgh has a shop that does all his Subaru's for $40.

your converter is functionally fine it just needs reattached. subaru converters are way to pricey and aftermarket converters are junk and rust out in two years.

make sure all your hangers are attached too - i've seen a few recently where the hangers weren't connected - making the flanges bear more forces and breaking..no doubt sooner.
---
H6 OBW VDC, H6 OB Sedan, Tribeca, Lifted XT6
Registered User
Join Date: Mar 2009
Location: home of the Jayhawks
Car: 2010 OBW limited 2.5 CVT
Posts: 1,588
Feedback Score: 0 reviews
Don't install a straight piece of pipe at that joint! It must be able to flex by design. Just have the muffler shop cut off the remaining flange and weld in a proper flex joint. If it cant flex there, it will cause the joint at the rear of the mid pipe to fail. Then you may find yourself replacing the entire mid pipe after it falls off the car (at least that is what I had to do to my '98).
---
My other car is a Subaru.... Come to think of it, so is my other other car

To view links or images in signatures your post count must be 10 or greater. You currently have 0 posts.