Outback 2.0XT, Audi TTq, Ducati M750
Discussion Starter
·
#1
·
My poor Outback has been sitting idle for almost 2 months, low compression on #2 meant yet another EJ had bitten the dust. I thought about my options:
1) Get whatever I could get for the car and buy an appliance
2) Rebuild the stock engine
3) Pick up a running swap
I searched used Volts for about a week, but never got myself to eat the money and go beige. Then, the more I researched the more I realized any solid EJ25 rebuild would cost $3-$4k, and that's essentially stock internals with forged pistons, a VF52, and a downpipe (along with incidentals). Solid, but I don't know, maybe too easy? I have a problem with cars as I don't do practical or easy, so that brought me to choice #3, find a runner that went beyond the crappy USDM pistons, tune, and VF40. I also decided I wanted a 2.0 for better mileage, and higher compression for better off-boost driving and spool. This led me to Google, research, and a few weeks of obsessing over what I should get. I knew Subarus in the rest of the world got better and more trick parts, and I also knew that I had thought more than once about ditching the 5EAT for a manual, so that led me to stupidity.
I settled on a JDM engine, the EJ20X or EJ20Y out of the 2.0GT Legacy (or Liberty, when Australia had that setup for a few years) - 9.5:1 compression with forged crown pistons, twin-scroll turbo, dual AVCS (intake and exhaust). The X is for the automatic and comes with a VF38/44, and the Y is the manual and comes with a TD04HLA. Apparently that VF is even more unreliable than our VF40, but in a twist the HLA is both reliable and the largest TD04 Subaru used. The twin-scroll setup is completely specific to the Legacy, so none of the gaskets, downpipes, or anything are compatible or interchangable with the Impreza.
After looking at a bunch of $1200-$1600 engines or engine/trans setups I got more creative; eBay has this wonderful thing called a "worldwide" search, and after looking up a bunch of nerdy Japanese car and Subaru terms I found myself looking at a 35k, 2008 JDM Spec-B front clip, complete with the rear subframe, diff, driveshaft, and all four halfshafts. Basically, its a complete Spec-B drivetrain and suspension swap. There was a best offer and I thought "What the ****, I'll give it a shot," so I offered $2000 and finally went to bed. I more or less forgot about it until the next afternoon, my phone buzzed and I saw it was a notification from eBay: Auction Won! I freaked for a few minutes, this was both exciting and crazy.
After another few minutes of realizing I had just bought half a car from Hong Kong and had to ship it, import it, and essentially rebuild my Outback, I calmed down. Twin-scroll turbo. Aluminum suspension parts. Bigger brakes. A 6spd manual. It hit me hard, it was going to be a much bigger deal than my last project of the clutch on my TT, but it was also going to be more bad-ass; that was maintenance, this was a legit
project
. On a station wagon. High school me might not approve lol. The importation wasn't too bad, both the seller in Hong Kong and CTL (import company) in New York helped with paperwork. I explained right away I was a total noob and am positive that helped my experience, but it was obvious both companies were professional and reputable. After a month the clip was sitting in a warehouse a half-hour away, waiting to be picked up, and I used uShip.com to get residential delivery for $290 instead of the $470 a freight rep quoted me. (see second reference thread at bottom).
Finding a downpipe was fun, but after some grinding I joined Buyee, a Japanese auction broker, and ordered a used HKS downpipe for $450, and after some back-and-forth communication I had it within 3 days of payment. I've collected other parts, might grab a few more, and started working on this Saturday. Half of that first day was organizing, cleaning, and doing little stuff to the clip like removing the fenderliners, airbox, and making sure the clip was free of the pallet when lifted. I had forgot all my jackstands so only the back-half of the clip is supported, but I grabbed my other two at Easter yesterday. Today I plan to get it totally on stands, remove the bellypan, take apart the suspension, and prep the engine as much as possible for the swap. Updates to follow...
Delivery:
My unwrapped present, note all the Spec-B aluminum suspension parts :grin2: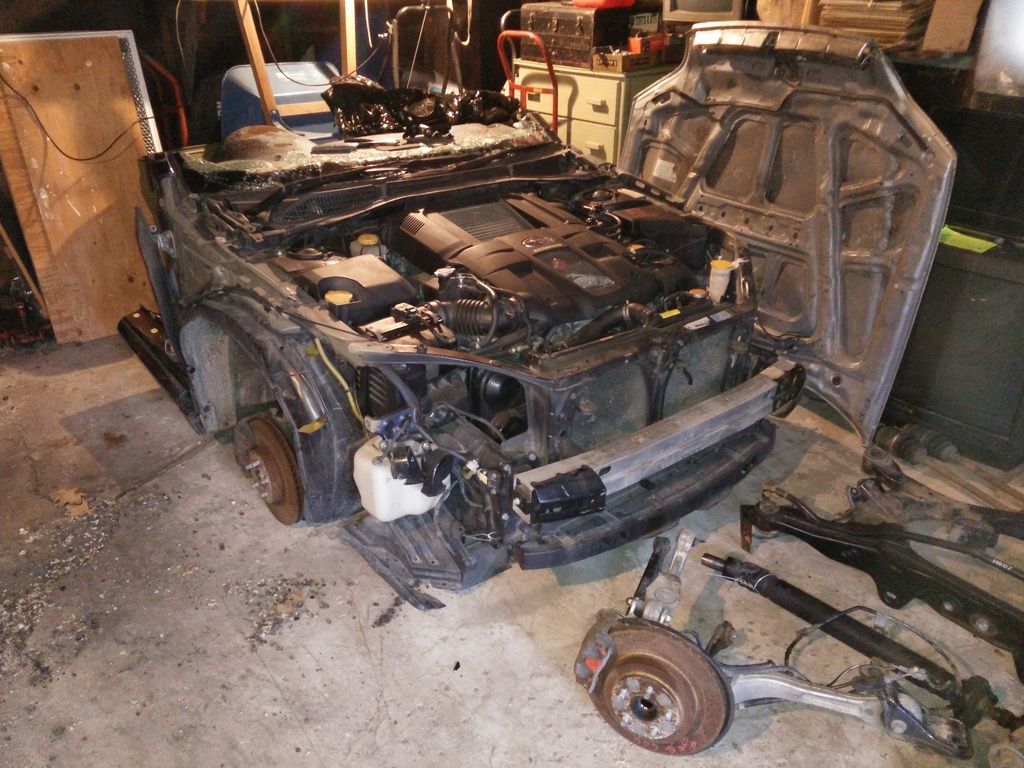 Hoisting the front before I realized I didn't have more jackstands, I need at least 4 more than the four I have now.
This is exciting, theoretically if I swap over the ECU, body computers, and anything else specific to the Spec-B I could have SI Drive in my 2005, but that's after I install the front LSD in the trans. I really should buy a transmission jack...
I didn't realize I was going to get the F/R brake setup but I did, hello built-in brake upgrade, the clip even has SS lines!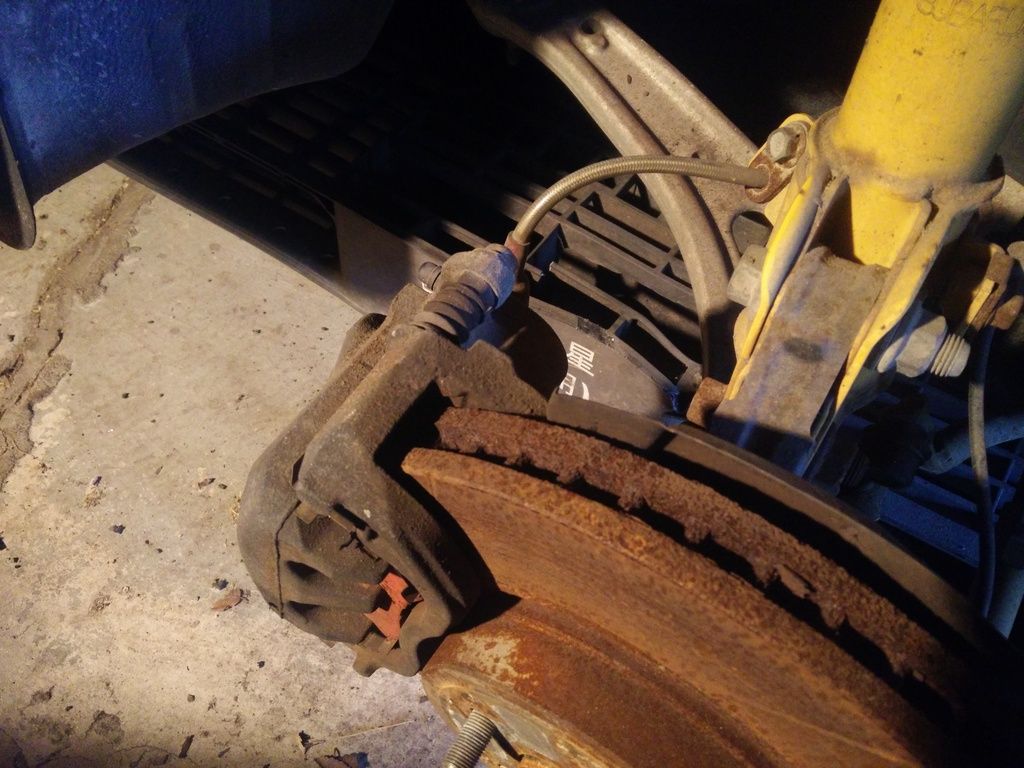 Gratuitous parts shot! HKS 3" downpipe, STi front LSD and engine mounts, rear diff mounts, a new turbo inlet, EJ20X ECU (in case I keep the 5EAT), topfeed TGVs for a delete (not sure if I'll worry about that now), gaskets, air pump delete. I figure since the car will be apart I might as well take care of things now, I'm planning pitch and trans mounts, an STi master cylinder, rear sway braces, maybe a GV/GR steering rack, and whatever anyone else has suggestions for. Eventually I plan on an upgraded DIY TMIC, I might save the topfeeds until then.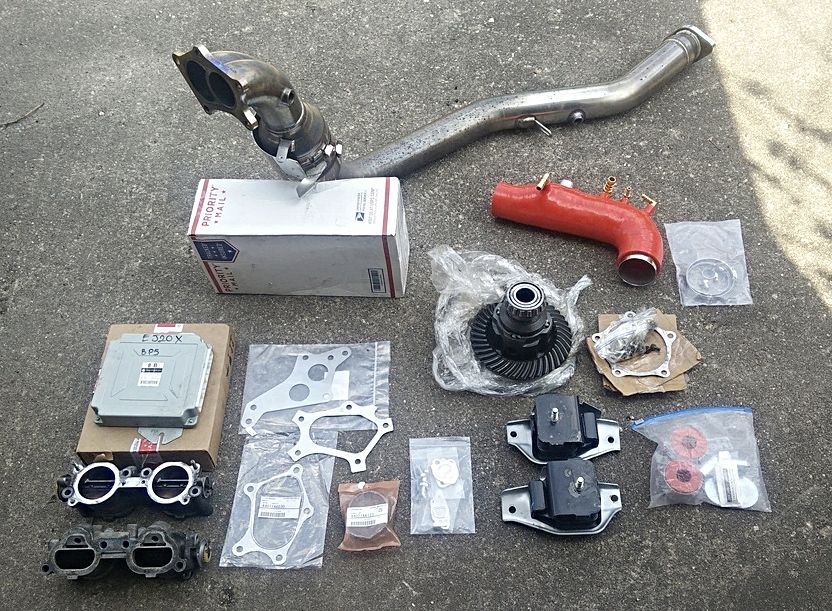 Reference threads:
http://forums.vwvortex.com/showthre...p-An-Outback-XT-ownership-and-punishment-blog
http://forums.vwvortex.com/showthre...ts-from-Japan-costs-a-fortune-Um-(an-anecdote
)