1997 Subaru Legacy Outback Limited
Discussion Starter
·
#1
·
1997 Legacy Outback Limited 210k miles in Hospice with Heavy Misfire
So i believe this is my first post on subaruoutback.org. I usually lurk on NASIOC just for the entertainment. Now, I am posting becuause i am getting more and more desperate. This will be a wall of words so i apologize in advance but with this kind of thing, the more info the better.
Here she is now: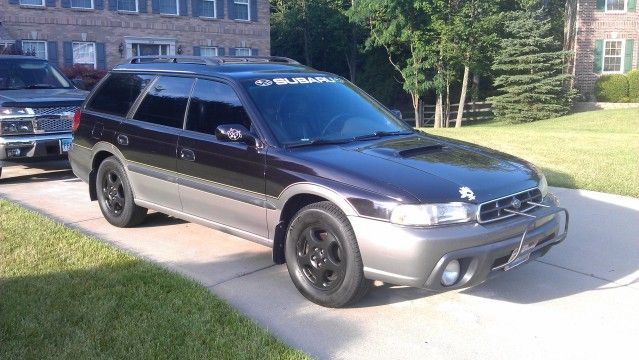 My grandfather bought the car new in 1996 for my grandmother before she passed away. He had it taken care of by Subaru exclusively. When i graduated high school back in 2009, i purchased the car from him with 148k on it. I absolutely loved this car. It never left me stranded, never got me stuck, never gave me any major problems. While i was in college, i drove about 100 mi a day. She currently sits just under 210k miles.
Her performance has been slowly degrading and while I know she is getting old, it was a little too much for me. At 203k the second timing belt was done by Turn in Concepts. They replaced:
-Timing belt
-water pump
-tensioners
-cam seals
About a week after the job was done, she started to get a major oil leak, like a basketball sized puddle after sitting overnight. I took it back to TIC and they told me that the oil pump was leaking. They wanted $500 to change it. After giving them all my money for the timing belt, i decided to do it myself. When i got everything down to the pump, the crank seal was definitely leaking. I replaced the pump, sealed it with some high quality RTV and replaced the crank seal. When i put the timing belt back on, I took my time to make sure that the belt was on correctly and tried to count the teeth but it was very difficult.
While i had the engine torn down i did a tune up and replaced the following:
-plugs
-wires
-PCV
-air filter
-fuel filter
-drive belts
-changed ATF and front and rear diiff fluid
-cleaned the MAF
-rotated tires
-fixed exhaust leak
She started right up after putting it all back together and I was back to my manageable few oil drops a day. She drove fine for a few days but then the problems began.
IF YOU ARENT GOING TO READ ALL OF THAT, PLEASE JUST READ THIS:
This is really the reason for starting this whole thread.
While driving, i got a P0302 code, cylinder #2 misfire. I erased the code and it constantly kept coming back. It began to get worse and worse, vibrating the car horribly and barely moving from a stop. I started looking into it and went through my Haynes manual and did some research. My first stop was the coil pack. I found the resistance specs and the primary resistance read about 1.8 ohms and secondary read about 18k ohms. Primary should be between .67 and .79 ohms. I went back up to TIC and swapped coils with a forester just to check and it actually made the problem worse. I am getting spark on all cylinders so thats not the problem.
I have reason to believe that my headgasket is going out due to loss of power and random overheating. Low compression on one cylinder could be the cause of a misfire. The misfire is isolated to cylinder #2.
My next course of action is to swap plug wires to see if it follows.
I have also read that a bad injector could be the cause. Tomorrow i will swap injectors and see if it follows.
Also on the list of checks for tomorrow:
-Check EGR valve
-check fuel pressure
-Compression check
-Seafoam engine
-test knock sensor
-Check O2 sensor voltages
If i am missing anything else that could be the culprit, please, please tell me.
The most interesting thing is that I did a coolant pressure test to see if my headgasket really was leaking. It held pressure for longer than I was willing to wait. How would a headgasket be bad and pass this test?
I know this really is a lot to read but i know that i have given all of the details i could possibly think of. This misfire had made the car nearly impossible to drive and besides my motorcycle, i have no other means of transportation.
I really appreciate all of your help and I know that there are people here that can give me some advice. Thank you.