Discussion Starter
·
#1
·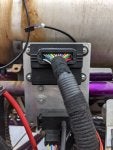 Hello all, this is my first post on this forum and I turned to posting because I have exhausted all resources and google searches and still cannot fins the info iI'm looking for. Any help at all would be greatly appreciated but I understand troubleshooting over the interwebs is really not ideal.
To start I have a 1998 EJ25 2.5l SOHC waste spark engine that currently has a microsquirt ECU powering it. The motor has not ran on this ECU before but due to issues with the previous ECU (EMS Stinger 4424) I made the switch to microsquirt as it is a product that has more information available for the garage mechanic (me).
I have rebuilt all engine harnesses with fresh wire and shielding off of CAM and Crank sesnors where required (Cam and Crank are seperate from eachother and shielding is grounded to ECU sensor ground and to the block)
currently running an aftermarket Outfront motorsports old school green style igniter. All wiring I have redone has been to schematics provided by Microsquirt and information I can find on how the ignition system works with the waste spark system. I'm sure there is some important information I have missed but just ask and I will be happy to provide anything I have mistakenly missed.
So diggin' into the details I cannot find information on the 3-wire ignition coil and when I freshened up the wires on it I copied what was done when the motor was running.
Pin 1 - Ignition output 1;
Pin 2 - 12V power in;
Pin 3 - Ignition output 2
That is what i believe it to be as the motor has ran off of that before, but when I do voltage testing I am getting 12V out of the ignition coil feeding back to the igniter coil and I was wanting to know if this is correct or if it is a problem with the coil itself. I have tried two different coils with the same result. I continuity tested all three wires and they do not touch or connect through a break anywhere in the harness.
On the igniter itself there are 7 pins and they are as follows;
1 - OUTPUT TO IGNITION COIL PIN 2 (IGN OUT 2)
2 - INPUT SIGNAL FROM ECU
3- EMPTY
4 - GROUND TO ENGINE BLOCK WITH BATTERY GROUNDED IN THE SAME SPOT
5 - EMPTY
6 - OUTPUT TO IGNITION COIL PIN 1
7 - INPUT SIGNAL FROM ECU (IGN OUT 1)
I am showing RPM's in the microsquirt software at crank and they are averaging around 250rpm
I have tried both the 6/7 trigger and the 36-2-2-2 trigger both with and without cam signal. Any advice would be greatly appreciated, sorry for the wordy post I just want to try and cover all ignition bases in one shot.
Thank you!
). It is