2018 Outback 2.5i Premium with Moon Hole.
Hi Gang, just got a new OB on Superbowl Sunday and completed Phase I of upgrading the car stereo. I've been going all out with car stereo upgrades ever since I started with a new 85 XT Coupe. More recently I had a Rockford Fosgate 3Sixty.2 Digital Sound Processor, along with an amp, powered sub and replacement speakers in a new 07 Outback. The car stereo was one of the main reasons I held onto it, I was not looking forward to starting over. I had decided to leave everything in the 07 except for the powered sub and start over with the new 2018 OB.
Initially I had planned on adding a new amp along with a stand-alone digital sound processor. While researching the latest products from AudioControl, I discovered their
D-4.800 Multi Channel Amp
(4 x 200 watts @ 2 ohms / 4 x 125 watts @ 4 ohms) along with an integrated Digital Sound Processor. It was installed under the drivers seat. The computer interface via a USB cable is amazing. Too many options to list here, but if you want to know more you can check it out here:
https://www.audiocontrol.com/car-audio/power-amplifiers/d-4800/
Here's an example of the Output View: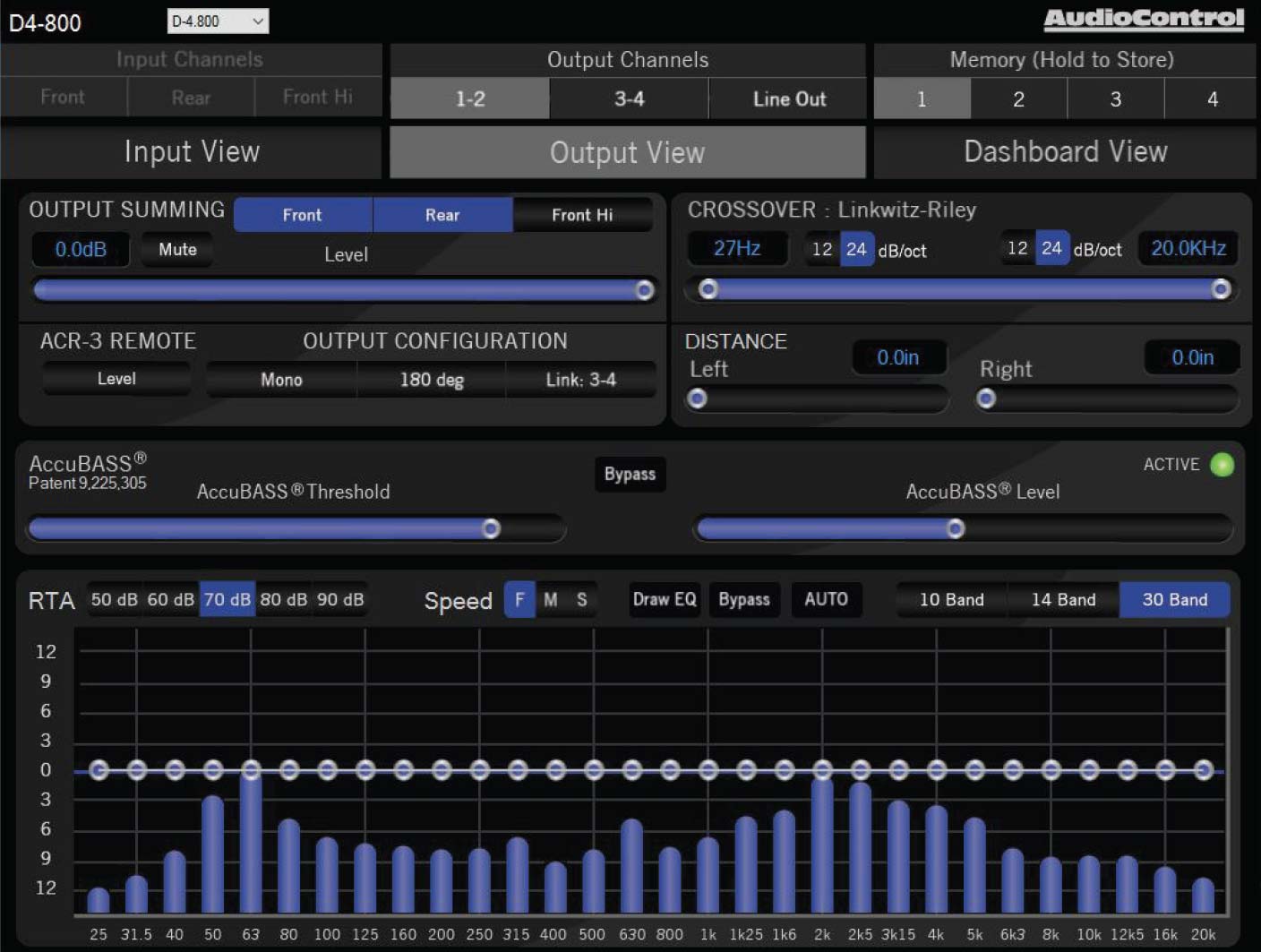 Sadly I was not too impressed with the overall sound. I wasn't sure what to attribute it to. My first thought was the stock speakers, but I was not ready for the expense to replace them. The installer had warned me that my old self-powered Alpine Sub was likely too underpowered to keep up with the new power going to the other speakers. I spent a lot of time trying to tune things with the DSP, but I never could get it to sound as good as the system in my 07. After a few days I decided to return and go ahead with a Subwoofer and Mono Amp. The shop suggested a
JL Audio CS112LG-TW3
Subwoofer/Enclosure along with a
Kenwood Excelon XR600-1
Mono subwoofer amplifier — 600 watts RMS at 2 ohms. The sub amp fit right onto the tool tray above the spare tire with the only modification being a small hole for the power and audio cables. I have the sub standing upright, up against the back of the seat facing to the rear.
After spending a few hours with the DSP (yes, I love to tweak), I am now blown away by how great it sounds. Even with the 6 stock speakers and no additional sound dampening in the doors, the sound quality is way beyond anything I had expected. My ears are not what they used to be, but the amount of clean wattage is so over the top that there is no distortion that I can hear at any volume. I had it in the shop yesterday to have body side moldings installed and gave a demo to my salesman. He could hardly believe that he was listening to stock speakers. Not sure how long the stock speakers will last, but for now I am more than satisfied. Next up will be Focal Speakers and Dynamat for the door panels, but that will have to wait awhile!!