Hello,
I have a 2009 2.5l @ 150,000 miles. The gaskets were already replaced at 100k but I am beginning to think its occurring again. I purchased a block test and the results were negative. I am not convinced because of the seeping oil under the car. Is this a head gasket issue despite the block test showing a blue color?
Thank you for your time,
Neil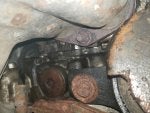 (these pictures are looking up into the car)
this one is looking down into the engine.