Discussion Starter
·
#1
·
Finally got the red door last weekend, too bad it was from a GT wagon.
here is tonight before removing the old door
and just after hanging the new door, which will not latch until the quarter panel is patched in.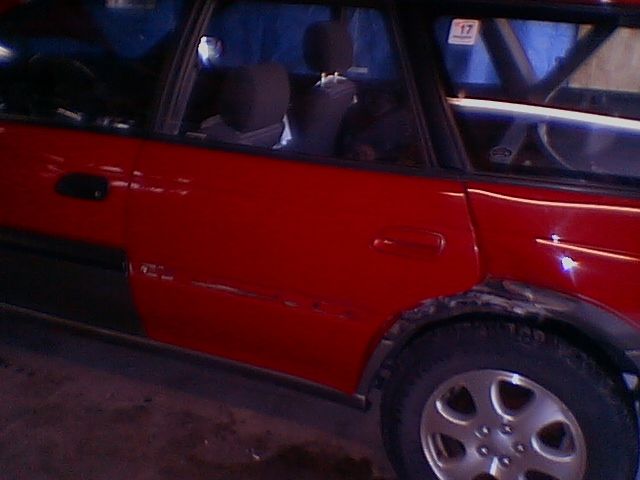 Because it took 7 months of looking to even come up with a good one in the right color, just had to go with it. The bottom will have to be sprayed the silver.
Already have left side stripe kit on order from Subaru (also on order is 370 bucks worth of wheel bearings for dad's 06 outback that has 301k) The kit comes with the upper/mid stripe belting, and the arch, but it is for the entire side of the car.
So if anyone is in need of the front door or front fender, I will give them a deal on the new stripe kit leftovers of that.
Will be a few days/week before I get more pics, the local body repairman will be fitting the 1/4 panel cut stuff. Might not get any more pics until it is finished.
Any tricks to installing the stripe kit?
thanks guys, just a Subie man who likes to keep these cars on the road and away from the crusher. This particular one had to bid 1500 to get it on insurance auction. with fees of auction service, about 2200 grand total.. The door was 75. 1/4 cut section was 30 from the local wrench n go (which my father helped me remove using a combo of hacksaw, tin snips, and riding lawn mower blade/sledge hammer to cut thru it). Going to plan on an even 3g total or maybe less, to get this 100k mile outback back on the road. It does not carry a salvage title. The inside is LIKE BRAND NEW in every aspect. The car was garage kept. The outside, aside from the damage seen, is near mint to mint. If you were the original owner in Madison WI area, please contact me I would like the service history, ie if HG's were done and t belt, haven't had time to pull a cover to inspect it. The car has Don Miller Subaru sticker on the back, so if you are familiar with Don Miller, maybe you could save me a 300 mile trip. I will eventually have this car up to Milwaukee for a Brewers game this coming summer, so could stop at the Madison dealer to check on records.
Thanks to those who were looking at my ad for looking for the door. I ended up finding it on craigs, even car-part.com didnt have one. Went to a few listed on car-part as red, but they ended up being the wrong red.