Discussion Starter
·
#1
·
Not an actual explosion i guess but it sounded like hundreds of people beating under my car with hammers. Any ways i left school to come back home for fall break. I've been feeling and hearing like 3 or 4 thumps really fast at low speeds and figured it was the drive shaft. I had plans to fix it when i got home. Anyways driving along at 65 mph 3200 rpm i hear a couple of really loud thumps and then just collection of horrible sounds after that. Pulled over first thing i noticed was my shifter is pushed way right and only moves in the space for 5th and reverse. cant move it around at all. Got out and a huge puddle of trans fluid everywhere, drive shaft hanging down and my exhaust is hung in pieces by the hangers like some kind of weird wind chime, and wires dangling(I'm assuming the o2 sensor) Anyways towed home for the last 65 miles.
I thought the leak was coming from that seal behind the "cup" on the end of transmission originally. i was wrong. Jacked up my car. pulled this off. :gasp: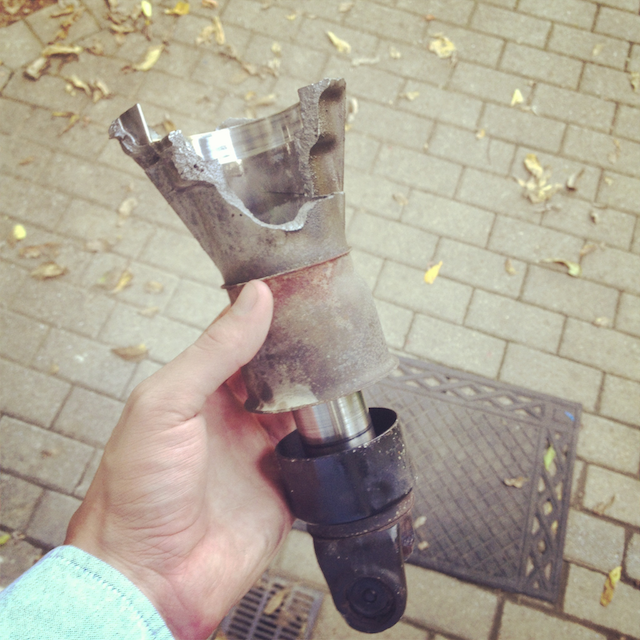 I can't believe this happened. I've been looking at a bunch of diagrams and is there anyway i can just replace the back plate of the transmission case? Also the propeller shaft i an grab and move back and forth about an inch? Is it better to just replace the whole thing. I'm at 180,000 miles. Also, could i of caused any damage to the engine?