1998 Subaru Legacy Outback
Discussion Starter
·
#1
·
So I bought the products that I needed back in August and only really got around to finally painted the wheels in the past 2 weeks or so and here is the final product. Not perfect but came out better than I had originally thought. Hopefully the pictures get uploaded successfully... lol. I picked these steelies with Winterforce tires from a member on the boards here a few years back which I have in the Gallery Forums somewhere, but they needed some TLC.
The process was a bit long (at least for me since I get pretty anal), but I had a good time doing it. All said and done, everything took about 10 hours, which consisted of sanding, cleaning, priming, sanding misc spots, cleaning, painting, and then clear coat. Initially, I was going to paint them with the existing clip balancing weights in place but then decided to take them off cause a flat occurs or new tires are needed, it would have looked horrible.
Cost Breakdown
:
Sanding and Painting Supplies: ~$50
Newspapers: FREE (how nice)
Rebalancing of Wheels: $72.55
New Gorilla Lug Nuts (Small Diameter Acorn Black 5 Lug Kit - M12 x 1.25): $35.15
Also, before I forget, I made the tire place use the sticky weights on the inside of the wheel so that the wheels can keep a consistent clean, simple look. The Steelies are 15", so the weights actually came pretty close to touching the brake caliper. They have 1/4g and 1/2g (pretty sure it's grams) weights and I made them use all 1/4s as I think the 1/2s would not have worked since they are a bit thicker.
BTW, Rust-Oleum spray cans are amazing!! I originally wanted Dupli-Color but they didn't have what I needed and got Rust-Oleum in place of it and so glad I did. These cans spray in all types of positions... flip the can upside down, not a problem, keeps a consistent spray going... just amazing!! I've used another brand before I think made by VHL or VHT (something like that) and it is such a POS... horrible spread... pain to work with. So... Rust-Oleum will be my choice of paint from now on!! In the picture below you'll see the "Undercoating" paint... I eventually plan on using it to re-touch all the plastic pieces that are supposed to have the "rugged" look... just not sure when I'll get around to that. Probably not until next spring or summer since it's getting a bit cold out now.
I can't really think of anything else at the moment, but if I do, I'll post it up.
Thanks for looking,
Andre
Pictures
:
Products Used were the 100 Grit Sanding Block, 400 Grit Sandpaper, Wax and Tar Remover, Primer, Enamel Paint (High Temp), and Perfect Match Clear Coat (in that order):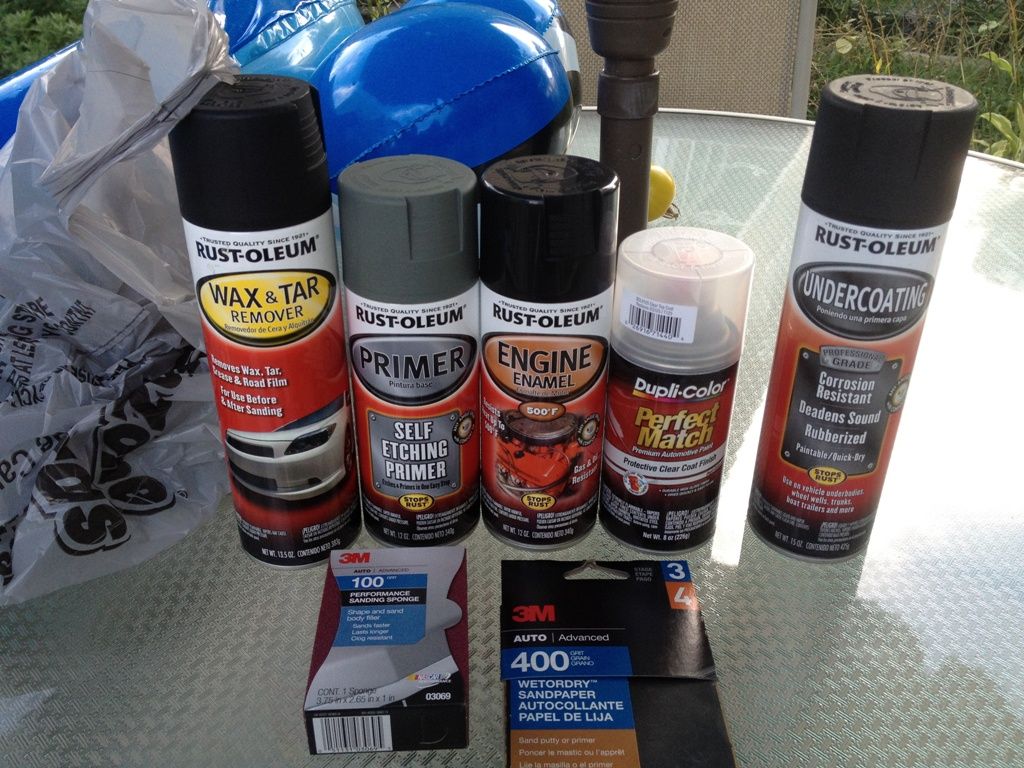 Picture of wheels all taped off with a coat of Primer already applied. I had more pictures of the process, but for some reason I can't seem to find them. I have a feeling they ended up at work somehow because I also use my phone for work photos: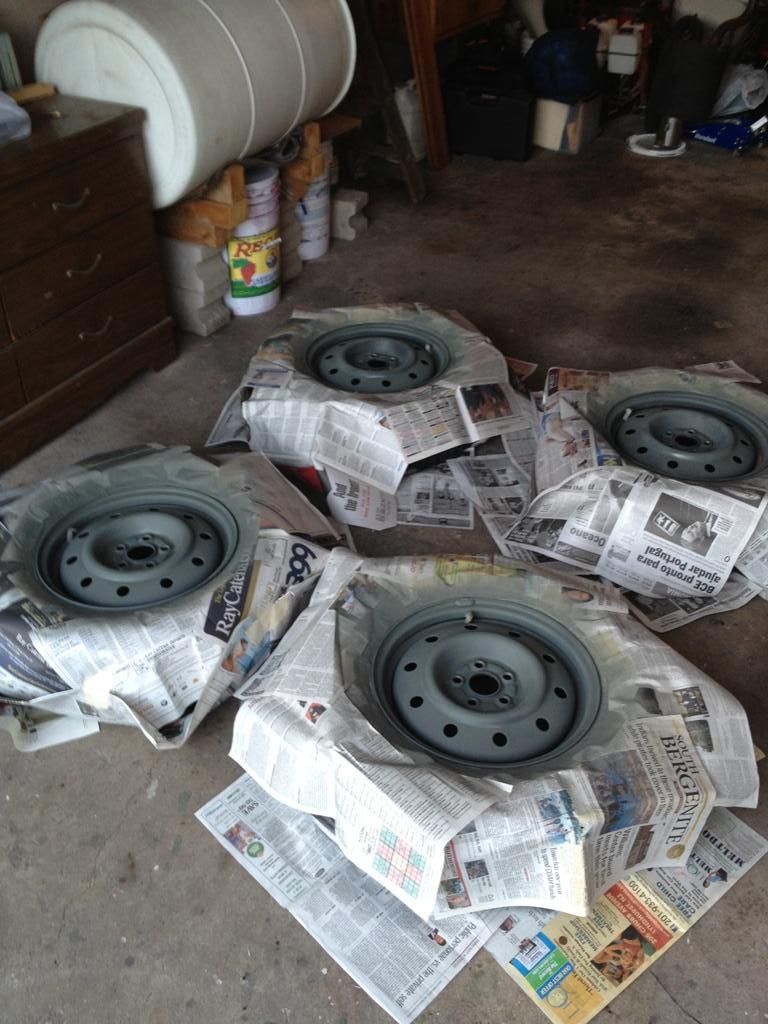 Ended up with extra paint, so decided to also paint the axle nuts so that I wouldn't have fresh painted wheels with new black lug nuts and then and rusted axle nut... just wouldn't look right, so I rigged somethign up really quick and pained them as well. I should have used Primer first, but just painted and that's it. If the paint comes apart, I can just do it again with primer... no big deal since it doesn't take long and I also kept the cardboard template.
Before (lots of rust in odd places as you can see):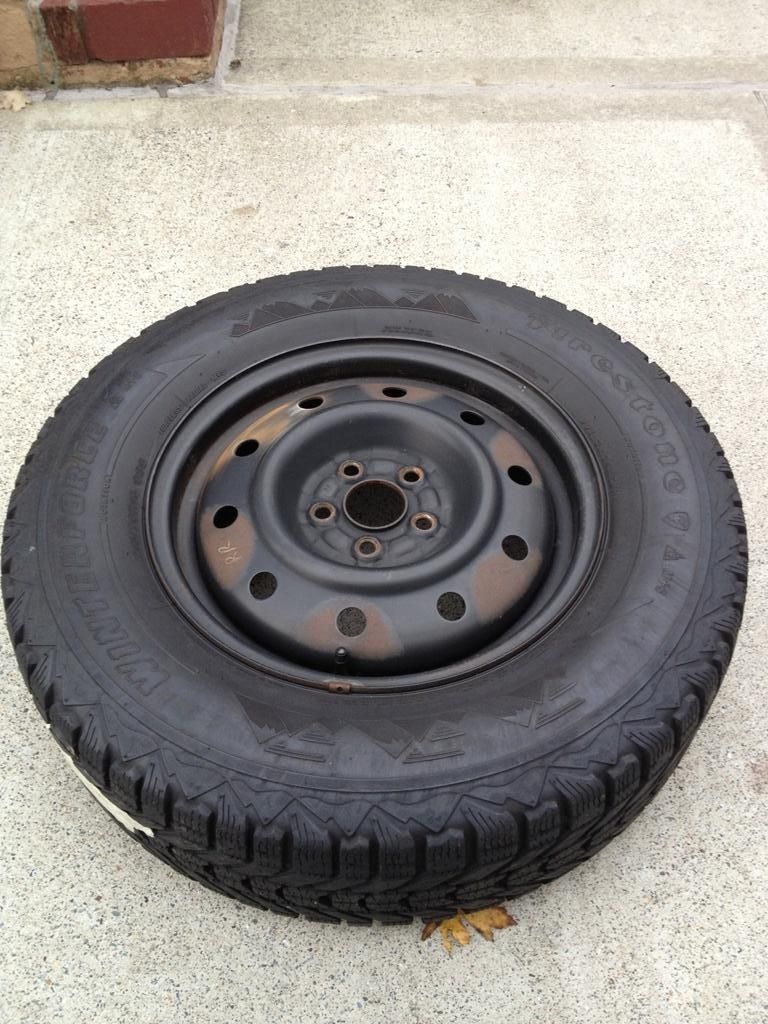 After (car washed and a little Meguiar's Tire Shine to keep the clean look consistent):