Discussion Starter
·
#1
·
Anyone have a 1996 Outback 2.5L produced before 5/96 and know for sure what NGK plug wires are correct?
Production date of my vehicle is Oct 1995 (says Cherry Cap. Subaru Traverse City MI)
A place in S.F. CA told me it was built 4/1/1995 and sat around till 4/1996 when it was sold.
Either way it is before the NGK cutoff of 5/1996 where part numbers switch.
I ordered wires based on NGK's site and verified my production and sales date of my vehicle yet the wires which are on it now look different, and I need to make sure I have the correct ones or if I need to order others.
All the pictures I see online are stock photos (which several look the same).
I got a box which says RC-FX45 9097 with the 9097 crossed out and 8005 written on it with a sharpie.
If someone could find a real pic of the 8005 and 9097 so I can decifer what the heck I have going on here, I would appreciate it.
These look like the ones I got mailed to me: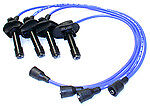 The ones currently on me vehicle look like these: