2008 OBXT 5eat Navi in black
Discussion Starter
·
#1
·
I figured I should sign up and say hello, since I've landed on this site a bunch of times from Google already.
I just bought my first car, a 2008 OBXT 5eat with navigation in black.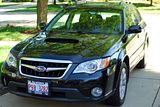 I've only had it for a week, but I'm really enjoying it so far. It might be bad that I'm already starting my
PLANNED MODS LIST:
Wheels & tires - soon, there's not much tread left on the tires that came with the car.
Tinted windows - I don't think I'll go super-dark, something like what came with my mom's '09 Forester would be nice.
Bluetooth phone - one of the kits from Parrot. The backlights of the climate control and audio displays flicker from time to time, like this thread. I figure while I have the radio out to redo the cold solder joints I might as well add Bluetooth integration.
Rear anti-sway bar - I was looking at the Rallitek ones, they seem to be highly regarded. Might do the front as well.
Cobb catted downpipe and accessport - as long as this would still pass emissions (which I'd think it would with the catted version)
Different blowoff valve for the turbo - I can't hear the turbo at all right now.
Mild catback exhaust - just enough to get a bit of the Boxer rumble.