Outback 2018 2.5i Premium
Discussion Starter
·
#1
·
2018 Subaru Outback Front License Plate Bracket and Universal Rear License Plate Holder
C&C CarWorx Corp. p/n OW-18-FP-C $52.87
-----------------------------------------------------------------------------------------------
For my new 2018 I wanted to mount the front licence plate a bit nicer than just screwing it to the bumper. The stock Subaru holder is just a flat plate. I wasn't sure how well that would fit to a curved bumper surface. This holder by C&C CarWorx just came out for the 2018 Outback.
Impressions...
Front holder is black textured plastic. It is a good 1/8" thick. Very sturdy feeling. Contour matches the front bumper well. A raised lip around the plate might offer a small amount of protection to the plate. Once mounted to the bumper with the adhesive tape strips I think it is pretty much welded to the bumper.
Universal rear holder is also fairly thick black plastic. Also has adhesive tape strips but I did not use them so I could remove and clean behind when the dirt builds up. The holder itself sits slightly away from the paint. It also has a raised lip around the plate. While nothing special it will make a nice frame/mounting for the plate.
Price? Seems a bit high to me. The plus side is that the holders , I think, were pretty nice. They also come with stainless steel screws and plastic screw head covers that might dress up your plates.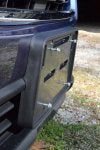 https://www.mycarworx.com/store/responsive_site/OutbackWagon_2018_FrontLicenseBracket.html