Discussion Starter
·
#1
·
hey guys just picked up a '02 ll bean edition with 188k on it for 5.8k, very clean and she pulls strong, i bought the car for my wife and as a commuter for the pair of us , we like being outdoors and it was the only car that made any real sense and was reliable, my wife has been used to riding around in my lifted 4runner and demands something that looks mean/cool as well , plus i enjoy driving it as well and want it to be capable too!
so anyways here's the car:
sorry for the cell pics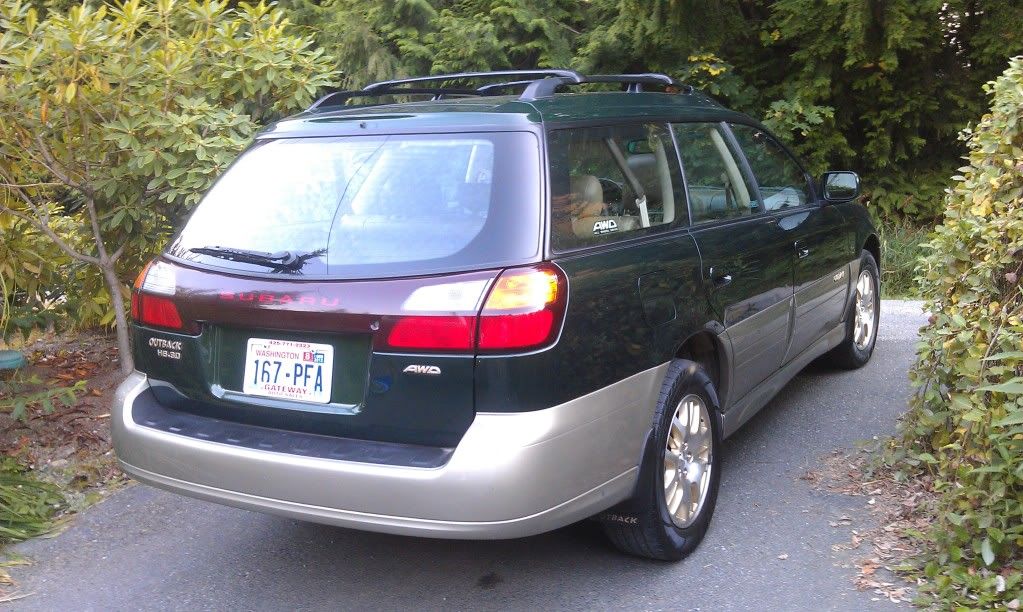 ideas for the build plan and feel free to correct me if i am wrong this is my 1st subie and my first post on this forum, all of my info is from various searches so i may be confused by some of this.
the lift: 05 baja spring for 1/2inch lift combined with a homebrew spacer block at 1.5"thick for a 2 inch lift total, ideally i'd a adjustable coil over assy that adjusts by the the seat perch
the shoes: i plan on running a AT tire, either bfg ,toyo, or yoko, on the stock rims painted either black with red trim or graphite ,homebrew job, are spacers needed usually?
exterior: custom made light bar, mines going to be a bit smaller and lower pro, running 4 inch hids of some sort, possibly some sliders and skids if i get crazy with it, window tint (got recommendations on % and what you guys paid?)
i also want to pull the cladding off and paint it grey/graphite or black as well, how tough is this?, wind/rain deflectors and small cargo basket or maybe just some ski clamps and call it good. baja hood w/ scoop
interior:going to swap out the h/u with whatever double din touchscreen with aux and usb ports for cheap, going to build a small low profile cargo box in the bed with a flip out sleeping platform i have/had in my truck, need a place to store tools,supplies,change of clothes a blanket some food ect, basic survival and break down stuffs. some weathertechs , dog cage thing and cb/ham radio ant and mount
drive and power-train: good oils,good gas and kind on the pedal, why mess with something that's already good... if anything maybe a scanguage , other than that just maintenance and keeping up on the old girl.
first things of order are timing chain(s),tensioners ,guides and water pump, i'm going to buy the valve cover gaskets to do while im in there and everything apart, i'll deal those depending on condition , if you guys got any other suggestions or pics for me to check out i'd be stoked! been looking around and it seems there isn't as much out there as i thought for our OB's or at least mine, if you got some places to check for parts that would be awesome!