2013 2.5i Outback Limited w/ moonroof
Yes, the rear view camera comes with any moonroof package.
If you get the standard radio, the camera is in the rear view mirror, if you get the upgraded HK radio then it appears in the radio screen, and if you get the nav it appears in the Nav screen.
I kind of agree it would be nice to have the full 7" screen for the camera but the HK radio screen isn't that bad - I like I way better then the little 3" screen that appears in the mirror - especially since there's a small disclaimer on the bottom which eats away at about an inch of your viewing area.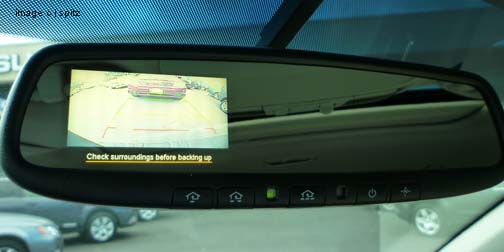 Interesting. What the heck difference does it make with the number of speakers? It must be something to do with the radio.

Still, if I had been just a tad bit more diligent in my research, I would have gone with the larger screen (with navigation). The small one is just plain puny, especially when compared to the 7-inch...or that's what she said.
The 9-speaker HK system has a 4.3" screen that the camera displays inside instead of the mirror.