Discussion Starter
·
#1
·
This is one very cool trailer and it would be ideal for towing behind just about any model Outback - it's very similar to the unobtanium U-Haul Sport trailers that you simply can't buy anywhere: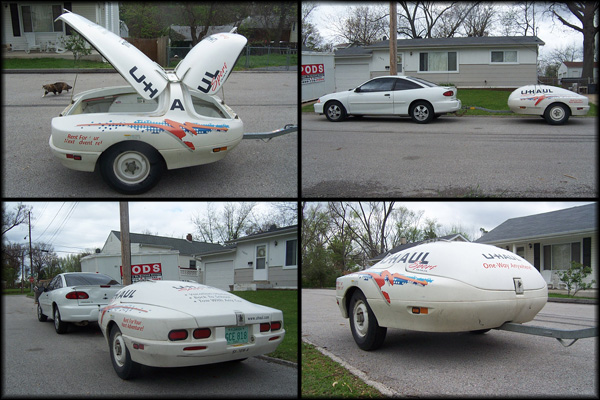 This one has an aluminum frame, a removable tailgate for long loads, and weighs only 550 pounds with a 1000 pound load capacity. Base price is US$5695 and you can get it custom painted to match your tow vehicle for an extra US$300. There are a lot of expensive options. I think the pricing is way too high, but there aren't any other trailers like this in the USA, to the best of my knowledge. I wonder if they would sell you a bare tub with the lids and hardware??
The main thing I do NOT like is the tire and wheel size. 12 inches is marginal. I would be much happier with 14 inch, I wonder if they would fit in the wheel wells. You might have to raise the body a few inches over the axle.
You would need some sort of stone protection (bed liner, StonGard, or a removable aluminum rock panel for the tongue), or the fiberglass and paint would suffer badly as soon as you ventured off pavement.
It has a detachable tongue as standard equipment (Yay!), so you can store the tongue in the trailer, or under it, after parking the trailer in a corner of your garage. With the tongue removed and the trailer propped up and squatting on it's butt on a scrap of carpet, it wouldn't take up very much floor space, and you could easily park things like a lawn mower or a floor jack underneath it. This is a great feature, one I incorporated into my custom utility trailer. It also allows you to fabricate and install a different tongue if you need a higher or a different type of coupler, or a longer tongue for carrying a canoe on the roof.
It really needs a metal rear bumper - I GUARANTEE any owner will eventually smack something reversing into a tight parking spot or maneuvering in the garage, and it will damage the paint and glass ... bumpers are good things on trailers.
It really REALLY needs some internal tie downs and a good non skid surface for when the trailer isn't loaded to the max. You could install aircraft type rails, but flush mounted rails from the factory would be much better:
I think adding a bunch of bikes to the top of an aerodynamic trailer is crazy and defeats the design goal, but you can do it if you need to.
Road Warrior Sports
Comments?
EDIT: I just found this - in the Accessories section they list a rubber floor mat, a gravel bra, and a "Storage System: The storage system allows you to store the Atlas 8 in a vertical manner to reduce the floor space that it requires. The steel structure has a cable winch system to enable safe and controlled lifting."
Sounds like they have thought things out pretty well.
John Davies
Spokane WA USA